"Well hello, consumer, yes hello consumer bop bop bop bop be da bup bebop cola~ yeah~!"
- Bebop Cola vending machine (All That Jazz)
"Bebop Cola, go grizzly or go home!"
- Bear (Vacation)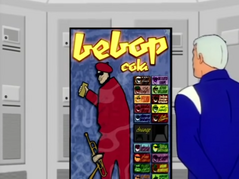 Bebop Cola is a soda drink brand in Sealab 2021. It contains 20 different flavors seen in the episode "All that Jazz". In Vacation, it is shown that the Bear was sponsoring Bebop Cola near the end of the episode. It is known that Captain Murphy loves Bebop Cola.
Root Bird
Gilberto Grape
Artie Shawberry
Kiwi Holliday
Peachmo
John Colatrane
Don Wild Cherry
Vince Guavaldi
Dave Bruberry
Cab Colaway
Dexterade
Rina Lemone
Mango Reinhardt
Getzberry
Fizzy Gillespie
Marian McPineapples
Or'ngette Coleman
Mingus Dew
Plain.
Diet Plain.